Specialising in Cognitive Behavioural Therapy (CBT) & Eye Movement Desensitization and Reprocessing (EMDR) for Adults, Teenagers and Children in Chineham & Basingstoke
Thank you for visiting our website. Making the decision to come to therapy or to seek help can be very difficult for some. Our clinical approach is to safely and gently work together towards your emotional and mental wellbeing.

Our main models of treatment are Cognitive Behaviour Therapy and Eye Movement Desensitization and Reprocessing (EMDR) Therapy. CBT is a talking therapy and looks at how changes in the way we think can impact the way we feel and behave. To learn more about CBT for adults, teens and children please visit our FAQ section. CBT has also been thoroughly researched for the treatment of depression and anxiety and is also highly recommended by the National Institute for Health and Care Excellence (NICE) guidelines for the treatment of various problems. EMDR (Eye Movement Desensitization and Reprocessing) is a psychotherapy that enables people to heal from the symptoms and emotional distress that are the result of disturbing life experiences. EMDR therapy shows that the mind can in fact heal from psychological trauma much as the body recovers from physical trauma. When you cut your hand, your body works to close the wound. If a foreign object or repeated injury irritates the wound, it festers and causes pain. Once the block is removed, healing resumes. EMDR therapy demonstrates that a similar sequence of events occurs with mental processes.

We also received further training in Counselling, Mindfulness, Compassionate Focussed Therapy, Parts work, Acceptance and Commitment Therapy and Play Therapy.

We help people with various life problems and psychological difficulties for adults, families, teenagers and children suffering from depression, anxiety, generalised anxiety disorder, panic, relationship issues and family conflict, feelings of sadness, phobias, Obsessive Compulsive Disorder (OCD), low self-esteem, anger and developmental trauma including Post Traumatic Stress Disorder (PTSD).

We provide effective, evidence based solutions, time-limited, solution-focused approaches adhering to the highest ethical standards.

Why choose us?

1. Our aim is to help and provide a service for everyone that needs psychological treatment. We enjoy seeing clients reach their goals and feel better. We are dedicated to the clients we see and our vision is to help you feel empowered to improve aspects of your life and to make the choices that make the most sense for you.

2. We are a small clinic of psychotherapists and other professionals that work together to tailor a treatment plan for you. We always seek feedback during therapy to ensure we provide you with what you need. As well as providing CBT psychotherapy, we can also offer a holistic treatment package which involves psychiatric assessment and medication review if this is needed. Please click here for further details.

3. Our clinic is quiet, private and comfortable. We often find that our clients frequently comment that the environment feels safe and peaceful. We also offer online therapy.

4. We recongise how anxiety provoking making that first phone call for help can be. Our phones will always be answered by a therapist who is able to offer a free telephone consultation prior to booking an appointment. Our opening hours vary depending on when you require a session.

5. We provide psychological assessment and therapy based on clinical research evidence of 'what works' and follow treatment recommendations published by the National Institute for Health and Care Excellence (NICE), which are guidelines followed by the medical profession. Our therapists are fully accredited by the BABCP and/or by the (British Psychological Society).

Our therapy room in Chineham is conveniently placed just outside Basingstoke town centre. There are easy road, bus and rail links. There is also ample road parking at the venue. Basingstoke is at the northernmost borough of Hampshire, bordered by Berkshire to the north and easily accessible from Bramley, Basing, Hook, Odiham and Reading.

Other services we offer are the following:

We have recently been offering CBT treatment through Skype/or Whatup Business during the pandemic, please enquire for further details.

We offer CBT Qualified/Trainee Supervision by Fully Accredited British Association for Behavioural and Cognitive Psychotherapies (BABCP) CBT Therapist and Chartered Psychologist via www.ferrito.co.uk.

We hope you find this website helpful and informative. If you would like any other information about our services, such as Psychotherapy, Counselling, CBT or other mental health services, please feel able to call us on 07523014800 or email us. There is no obligation to continue to use our services should you feel that we cannot help but we will be happy to answer your questions or respond to any concerns you may have.

For further information on Mindspace Therapy-Studio in Chineham, Basingstoke and it's accessibility from Hook, Bramley, North Hampshire and other areas, please email or call us on 07523014800.

Mindspace Therapy-Studio is not a crisis service.

If you are in a crisis or are at risk please contact your GP, or the Emergency Services.

Useful Information:
For more information on CBT go to NHS - Cognitive Behavioural Therapy or The Royal College of Psychiatrists.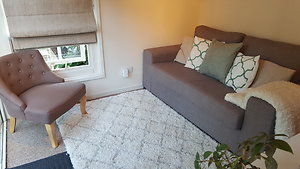 All rights reserved. Copyright:
Mindspace Therapy-Studio Ltd.
Company Registration Number: 11263839